In a significant and strategic meeting held on Tuesday, October 24, 2023, the Islamic Research Institute (IRI) at the International Islamic University, Islamabad, welcomed a high-profile delegation from Pakistan Data Management Services. The session aimed to explore avenues for cooperation between these two influential organizations and to harness their respective strengths and expertise for mutual benefits. The meeting was presided over by Prof. Dr. Muhammad Zia-ul-Haq, Director-General of IRI, and included key representatives from both organizations.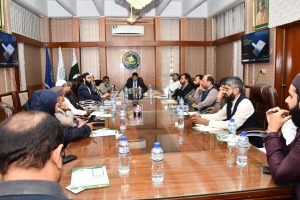 Dr. M. Wasie Butt, Head of Branding & Community Management at Pakistan Data Management Services, delivered an insightful presentation on the organization's mission, objectives, and activities. Established in 1989, PDMS is driven by the vision of "connecting people with Allah through technology." The organization has developed more than 20 products with a global reach of over 100 million users. Dr. Wasie highlighted PDMS's active involvement in various government projects, including NADRA and Citizens Police Liaison Committee, Sindh (CPLC). He also introduced the Quran Majeed App, PDMS's flagship product, which has amassed over 60 million downloads worldwide.
In a lively session of questions and answers, Prof. Dr. Muhammad Zia-ul-Haq proposed the development of an add-on compatible with all versions of Microsoft Word for citing Quranic references and their translations.
The meeting paved the way towards signing a memorandum of understanding and both organizations agreed to join hands for progress in synergizing technology with Islamic research. The meeting also set sights on collaborative digital initiatives, such as developing learning management systems for Quranic learning, AI based correctors for correctness of Quranic pronunciation, developing policies and issuance of certificates for digital publication of Quran.
The meeting concluded with expressions of gratitude and the exchange of souvenirs, marking the beginning of a promising collaboration between IIUI's IRI and PDMS. The partnership holds the potential to yield significant advancements in the realm of technology and Islamic research.